Profile
Egor Grechishnikov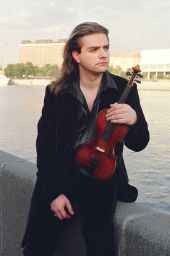 For English version please scroll down

Egor Grechishnikov wurde in Moskau in eine Musikerfamilie hineingeboren. Im Alter von sechs Jahren erhielt er seinen ersten Geigenunterricht und begann ein Jahr später seine Ausbildung an der Zentralmusikschule des Moskauer Konservatoriums. Seit 1992 studierte er ebendort Violine in der Klasse von Prof. Eduard Gratch. Unter den Preisen, mit denen Egor Grechishnikov ausgezeichnet wurde, sind der 1. Preis beim 1. Internationalen Demidow-Wettbewerb in Jekaterinburg (1993), der 4. Preis und der Sonderpreis "Für die beste Darbietung von Tschaikowsky-Werken" beim 10. Internationalen Tschaikowsky-Wettbewerb in Moskau sowie ein Sonderpreis des Internationalen Tibor Varga-Wettbewerbs im schweizerischen Sion (1999). Zu seinem Solorepertoire gehören die Violinkonzerte von Vivaldi, Bach, Mozart, Beethoven, Paganini, Brahms, Tschaikowsky, Sibelius, Barber und Schostakowitsch. Mit eigenen Arrangements von Werken Paganinis, Wieniawskis und Sarasates für zwei Violinen und Kammerorchester trat er 2001 im Maly Saal des Moskauer Konservatoriums auf. Als Konzertmeister musizierte er mit dem WDR Sinfonieorchester, WDR Rundfunkorchester, dem Moskauer Kammerorchester "Moskovia", den Virtuoses of Moskow, dem Kammerorchester "Musica Viva", dem SWR Sinfonieorchester Baden-Baden und Freiburg sowie dem Nederlands Philharmonisch Orkest. Seit 2002 ist Egor Grechishnikov 2. Konzertmeister der Düsseldorfer Symphoniker und darüber hinaus auch als Dirigent tätig.

Egor Grechishnikov was born into a musically active family in Moscow. At the age of six he took his first violin lessons, and a year later he began training at the central music school of the Moscow Conservatory. Since 1992 he has been attending the violin class of Prof. Eduard Gratch at the same institution. Among the decorations which Egor Grechishnikov has received are the 1st prize at the First International Demidov Contest at Yekaterinburg in 1993, the 4th prize and special prize "for the best interpretation of works by Tchaikovsky" at the Tenth International Tchaikovsky Contest in Moscow and a special award at the International Tibor Varga Competition in Sion/Switzerland in 1999. His solo repertoire includes violin concerti by Vivaldi, Bach, Mozart, Beethoven, Paganini, Brahms, Tchaikovsky, Sibelius, Barber and Shostakovich. In the Small Hall of the Moscow Conservatory in 2001 he presented his own arrangements of works by Paganini, Wieniawski and Sarasate for two violins and chamber orchestra. He has been leader of the West German Symphonic and the West German Radio Orchestra, the "Moskovia" chamber orchestra of Moscow, the "Virtuoses of Moscow", the "Musica Viva" chamber orchestra, the South-West German Radio Symphony Orchestra in Baden-Baden and Freiburg and the Nederlands Philharmonisch Orkest. Since 2002 Egor Grechishnikov has been deputy leader of the Düsseldorf Symphonic and has also been active as a conductor.