Profile
Demis Volpi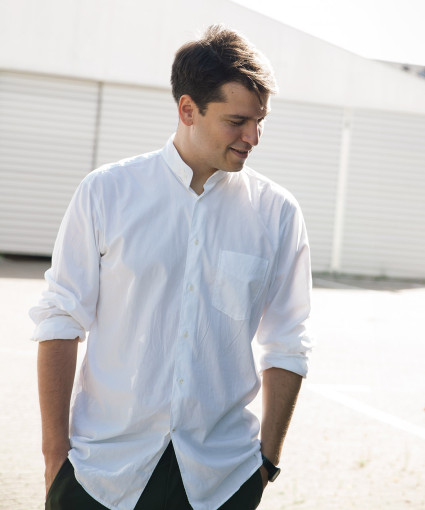 Seit Beginn der Spielzeit 2020/21 ist Demis Volpi Ballettdirektor und Chefchoreograph des Ballett am Rhein. Der Deutsch-Argentinier erhielt seine Tanzausbildung in Buenos Aires, an Canada's National Ballet School in Toronto und an der John Cranko Schule in Stuttgart. Anschließend tanzte er im Corps de Ballet des Stuttgarter Balletts. 2006 begann er, im Rahmen der Noverre-Abende für die Compagnie zu choreographieren und wurde 2013 nach seinem erfolgreichen ersten Handlungsballett "Krabat" zum Hauschoreographen ernannt. Fasziniert von Geschichten erforscht er weiterhin die Möglichkeiten des Erzählens im Ballett.

Er schuf narrative wie abstrakte Arbeiten u.a. für das American Ballet Theatre, das Ballet de Santiago de Chile, das Ballet Nacional del Sodre in Uruguay, das Lettische Nationalballett, das Ballett Dortmund, die Compañia Nacional de Danza de México und das Ballet Vlaanderen. Außerdem kreierte er für Canada's National Ballet School, wo er 2014 Guest Artist in Residence war.
Seit 2014 arbeitet Volpi auch als Opernregisseur und befragt dabei die Grenzen der Theatergenres. So inszenierte er beispielsweise 2017 Benjamin Brittens "Tod in Venedig" – eine Koproduktion der Staatsoper Stuttgart, des Stuttgarter Balletts und der John Cranko Schule.

2011 wurde Volpi mit dem Erik Bruhn Preis, 2012 mit dem Chilenischen Preis des Kunst-Kritikerkreises und 2014 mit dem Deutschen Tanzpreis Zukunft ausgezeichnet. Außerdem wurde er 2017 für sein abendfüllendes Ballett "Salome" für den Prix Benois de la Danse nominiert und nach seiner erfolgreichen Premiere von "Tod in Venedig" in der Kritikerumfrage der Fachzeitschrift Opernwelt zum Nachwuchskünstler des Jahres 2017 ernannt. Demis Volpi war Jurymitglied beim Prix de Lausanne 2018. Im September 2019 wurden seine Arbeit und Leistungen als Choreograph der letzten zehn Jahre bei der Konex Award Preisverleihung in Buenos Aires mit dem Merit Diploma der Stiftung ausgezeichnet.


Since the beginning of the 2020/21 season, Demis Volpi has been Ballet Director and Principal Choreographer of the Ballett am Rhein. The German-Argentinian artist trained as a dancer in Buenos Aires, at Canada's National Ballet School in Toronto and at the John Cranko School in Stuttgart. He subsequently danced in the corps de ballet at Stuttgart Ballet. He began choreographing for the company in 2006 as part of the Noverre Young Choreographers project and was named Choreographer in Residence in 2013 after the success of his first narrative ballet 'Krabat'. He is fascinated by stories and continues to explore the possibilities of narrative in ballet.

He has created both narrative and abstract works for companies including American Ballet Theatre, Ballet de Santiago de Chile, Ballet Nacional del Sodre in Uruguay, National Ballet of Latvia, Ballett Dortmund, Compañia Nacional de Danza de México and Flanders Ballet. He has also created works for Canada's National Ballet School, where he was Guest Artist in Residence in 2014.
Since 2014 Volpi has also been active as an opera director, questioning the boundaries of this theatrical genre of theatre. This was evident, for example, in his 2017 staging of Benjamin Britten's 'Death in Venice' – a co-production between Stuttgart State Opera, Stuttgart Ballet and the John Cranko School.

Volpi was the winner of the Erik Bruhn Prize in 2011, the Prize of the Chilean Arts Critics' Circle in 2012 and the Future Award of the German Dance Prize in 2014. He was subsequently nominated for the Prix Benois de la Danse in 2017 for his evening-length ballet 'Salome' and was named Emerging Artist of the Year in the critics' poll for the professional journal Opernwelt following his successful premiere of 'Death in Venice', also in 2017. Demis Volpi was a member of the jury for the 2018 Prix de Lausanne. In September 2019 his work and achievements as a choreographer over the last decade were recognised at the Konex Awards in Buenos Aires with the presentation of the foundation's Diploma of Merit.