Profile
Daniel Vizcayo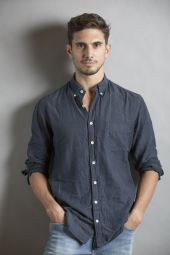 For English version please scroll down

Daniel Vizcayo wurde in Madrid geboren und erhielt seine Ausbildung zum klassischen Tänzer von 1999 bis 2008 am dortigen Real Conservatorio Profesional de Danza unter der Direktion von Virginia Valero. 2005 tanzte er als Demi-Solist in der Produktion "Snow White" mit Tamara Rojo, 2007 war er Finalist beim Prix de Lausanne und startete im selben Jahr seine Tänzerkarriere in Jean-Albert Quartiers Ensemble Europa Danse, wo er in Balletten wie Léonide Massines "Parade", Anna María Stekelmans "Pulcinella" und Thierry Malandains "Mercure" zu erleben war. Seit 2008 war er als Principal dancer im Malandain Ballet Biarritz engagiert, wo er in zahlreichen Choreographien des Direktors Thierry Malandains tanzte, darunter "Carmen", "Boléro" und "La Bella y la Bestia" sowie als Prinz in "Cendrillon" und in der Titelrolle von "Lucifer" zu erleben war. Seit der Spielzeit 2017/18 ist Daniel Vizcayo Mitglied des Balletts am Rhein.

Daniel Vizcayo was born in Madrid where he makes his dance studies at the Real Conservatorio Profesional de Danza under the direction of Virginia Valero, from 1999 until 2008, receiving the professional grade of dance in classical dance style. In 2005 he dances as demi-soloist in the production of "Snow White" with Tamara Rojo. In 2007, he was finalist in the Prix de Lausanne contest and starts his professional career in Jean-Albert Quartier's company Europa Danse, dancing ballets like "Parade" by Léonide Massine, "Pulcinella" by Anna María Stekelman and "Mercure" by Thierry Malandain. Since 2008 he has been Principal dancer at the Malandain Ballet Biarritz, where he danced in ballets by the company's director Thierry Malandain like "Carmen", "Boléro", "The Beauty and the Beast" and roles like the Prince in "Cinderella" and the title role in "Lucifer". As from the 2017/18 season he has become a member of Ballett am Rhein.