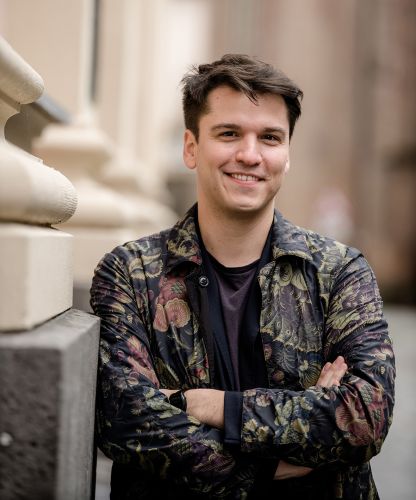 Demis Volpi
The German-Argentinian choreographer and director Demis Volpi will become Ballet Director and Principal Choreographer of the Ballett am Rhein from the 2020/2021 season
Demis Volpi will become the Ballett am Rhein's new Ballet Director and Principal Choreographer with effect from the 2020/21 season. At an extraordinary meeting on Friday, 15th March 2019 the board of the Deutsche Oper am Rhein unanimously appointed the Argentinian choreographer and director as the successor to Martin Schläpfer, who will leave in the 2020/21 season to become Ballet Director of the Vienna State Ballet.  Demis Volpi has signed a four year contract running until the 2023/24 season.
Demis Volpi was resident choreographer at Stuttgart Ballet from 2013 to 2017. As a freelance he has created works for numerous prestigious companies including the Compañía Nacional de Danz de México, the American Ballet Theater New York, the Ballet of Flanders, the Ballet de Santiago de Chile, DanceWorks Chicago, Northern Ballet in Leeds and the Korean National Ballet. He has also choreographed for dancers such as Alessandra Ferri, Herman Cornejo, Alicia Amatriain, Sue Jin Kang, Cory Stearns and Luis Ortigoza. In Germany in addition to his work for Stuttgart Ballett he has also choreographed productions for Ballett Dortmund, the Ballett im Revier Gelsenkirchen and Badische Staatsballett and has created successful opera productions at the Saarländisches Staatstheater, Nationaltheater Weimar, Heidelberg Opera and Stuttgart Opera.
The 33 year old has already received substantial international recognition for his works. In 2018 he was nominated for the International Opera Awards (in the category "Best Production" for 'Death in Venice', Stuttgart State Opera) and the Prix Benois de la Danse at the Bolshoi Theatre in Moscow (Best Choreography for 'Salome', Stuttgart Ballet). He is a winner of the German Dance Prize (in the "Future" category in 2014), was named Emerging Artist of the Year for 2017 in the critics' poll conducted by Opernwelt magazine and is also a winner of the Chilean Art Critics' Award.
"Demis Volpi is one of the most exciting, creative and promising choreographers and directors of the young generation," said General Director of the Deutsche Oper am Rhein, Prof. Christoph Meyer. "He possesses valuable long-term experience with major ballet companies, administrative know-how and enormous artistic potential.   We have been particularly impressed with his modern, cross art from approach that defines dance as an interdisciplinary medium."
With his "innovative ideas and his impressive artistic biography," Christoph Meyer went on, Demis Volpi proved successful within a highly qualified field of international candidates. "After ten wonderful years with Martin Schläpfer, who has achieved remarkable things here in Düsseldorf and Duisburg and made the Ballett am Rhein one of the leading venues of European dance it was clear to us that no 'successor' could pick up seamlessly where Martin Schläpfer's work and aesthetic leaves off – and that none should attempt to. A transition like this demands the courage to change."
Hans-Georg Lohe, Head of the City of Düsseldorf's Department of Culture: "I regard the Ballett am Rhein as one of the leading international ballet companies of the future as it is now, and as an important ambassador for Düsseldorf and Duisburg. In Demis Volpi we have been able to engage an excellent young choreographer for this task, whose passion for dance, wealth of ideas and clever, incisive exploration of both classical and contemporary works will open up perspectives and contribute to ballet's development as an art form."
Thomas Krützberg, Head of Culture for the City of Duisburg, is equally delighted with Volpi's appointment: "The Ballett am Rhein's contribution to this unique theatrical marriage that has made a wide-ranging programme of the highest artistic quality available to a broad public in Duisburg and Düsseldorf for over 60 years is a decisive one. And we are therefore all the more pleased that in Demis Volpi we have succeeded in appointing someone who is currently one of the most interesting and sought-after choreographers of his generation to ensure the company's continuing international status while also bringing fresh ideas to ballet on the Rhine and the Ruhr."
Demis Volpi: "It is with great pleasure that I look forward to the challenge of leading the Ballett from the 2020/21 season and I am grateful for the trust that has been placed in me. I see it as my task to build upon what the company has achieved in recent years: so the neoclassical repertoire will be maintained, significant contemporary choreographers and artists will be involved and scope extended for new choreographic vocabularies. In addition to this, however, I am of course looking forward to establishing some of my own initiatives, including creating my own full-length narrative ballets to expand the Ballett am Rhein's repertoire and profile.
"First of all I look forward to meeting the dancers and staff in the weeks to come and to working together with Christoph Meyer. I am very excited about the audience in Duisburg and Düsseldorf and hope that it will approach future artistic developments in its ballet company with curiosity and openness."