Family Card Duisburg
CURRENT OFFER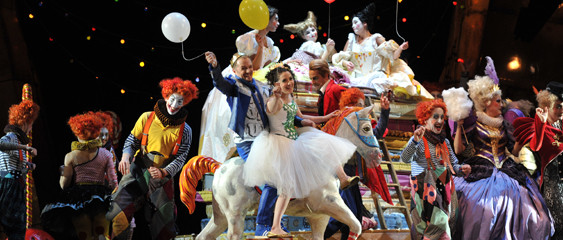 Go to the opera or the ballet with your whole family. Make use of the Family Ticket offer for Theatre Duisburg!

Once a month (one performance or two more or less could be offered according to the season plan) we make all holders of Duisburg Family Cards a group offer for a performance of our choice in Theatre Duisburg. The basic offer is for four persons – two parents and two children – for a total of 36.00 euros, and if you have more than two children we are happy to extend this offer at a rate of 9.00 euros per extra child.


The current offer for Duisburg Family Card holders:
As soon as we announce to which performances the current offer applies, your Family Card special-offer theatre tickets can be obtained exclusively via the advanced booking facility of our Düsseldorf box office. There is no facility to take up this offer via Internet!
Deutsche Oper am Rhein / Box Office Duisburg
Düsseldorfer Str. 5-7 / 47051 Duisburg
Open: Mo–Fr 10.00–18.30, Sa 10.00–18.00
Tel. 0203.940 77 77
E-Mail
ticket@operamrhein.de
You can also make use of the Family Card offer spontaneously without previous notice at the evening box office, which opens 60 minutes before the chosen performance begins – but there is no obligation on our part if sufficient theatre tickets are by then no longer available.
IMPORTANT:
Please always show your Family Card when obtaining the theatre tickets and when coming to the performance – the offer is valid only if at least one member of the group of four shows his/her Family Card both times – thank you for your understanding!
Info: Duisburg Family Card
The Jugendamt (youth office) in Duisburg will on demand issue a Family Card to anyone who is registered as a parent or guardian at a principal residence in Duisburg and has at least one child up to 18 years living at the same address.
Further information
www.duisburg.de/familienkarte