Theater Duisburg
Building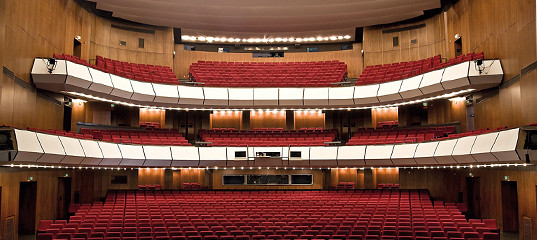 Theater Duisburg - Historic palatial building at the head of the new König-Heinrich-Platz
Centrally situated on Opernplatz, only a few paces from Königsstraße, the theatre is one of the most striking of the city of Duisburg's buildings. The shining white front is reminiscent of the proscenium of a Greek temple. Six Ionic columns bear the triangular gable, on which one may read in golden letters a quotation from Schiller's "Homage to the Arts".
Through me before your eyes is here unfurled
All that is great, all that is small in name;
And when you know the story of the world,
Return enriched to that self whence you came.
Prof. Martin Dülfer was the architect of the Theater Duisburg, which was opened in 1912. 1652 seats were distributed between stalls and tiers. The programme comprised opera and spoken theatre performances by various companies until it was destroyed in an air-raid in 1942, immediately after a performance of "Tannhäuser". There followed improvised evenings in the Mercator Film Palace, the Thyssen canteen and the town halls of Mülheim and Rheinhausen, prior to the evacuation of the theatre to Prague. It was then not until 1950 that the first performance in the rebuilt house was given. Restoration and a renovated auditorium were undertaken in 1970 and the house now boasts 1118 seats. More intimate works and concerts are given in the opera foyer, which forms a popular meeting-point in the style of the Fifties during intervals. Foyer III under the roof of the building is a venue for unusual theatrical events.
On the main stage more than a hundred opera and ballet performances of the Deutsche Oper am Rhein take place per season. To these are added numerous guest evenings of theatres in the North-Rhine-Westphalia region and also the "Duisburger Akzente" arts festival. Obliquely across the way is the Philharmonie Mercator Hall, where the Duisburg Philharmonic gives concerts.
In the south Duisburg city quarter of Wanheimerort the Deutsche Oper am Rhein obtained a new production centre in 2002. This houses two large rehearsal stages and the scenery-building facilities – the metal and wood workshops and the modelling and painting departments.