Young Audience
Kinderchor am Rhein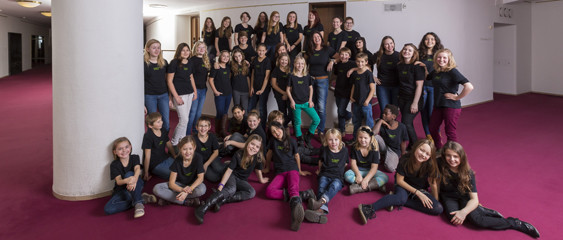 "Kinderchor am Rhein", our Children's Chorus has grown. Since 2012 we have a preparatory chorus led by Svenja Lehmann. Children from six to nine are prepared here for their rehearsal work with the main chorus. But rehearsing is not all they do. They are actively involved together with the children and youngsters of the main chorus in the production of Benjamin Britten's children's opera "Arche Noah" and also in the second Christmas carol training camp. "Werther" by Jules Massenet will give the children's Chorus their first chance to appear in a performance by the full company in Düsseldorf Opernhaus. Anyone interested in joining is welcome to watch a rehearsal and to audition. The more we grow, the better.
REHEARSALS
Preparatory Chorus
every Friday, 15:00–16:00 h – Theater Duisburg
Main Chorus
every Friday, 16:00–18:00 h – Theater Duisburg
CONTACT
CHORUS MISTRESS Sabina López Miguez
Tel. +49 (0) 211.89 25-457
E-Mail:
kinderchor@operamrhein.de
Zu Gast
WEIHNACHTSKONZERTE
Im Dezember ist der Kinderchor am Rhein Gast bei den Weihnachtskonzerten der Jubilarenvereinigung ThyssenKrupp Steel.
TERMINE Sa 13.12. | So 14.12.2014, jeweils 14.30 Uhr - Theater am Marientor
www.theater-am-marientor.de
Für Familien mit Kindern ab 6 Jahren
SONNIGES SONNTAGSKONZERT DES KINDERCHORS
Die Sonne scheint, die Blumen blühen – und Kinder wie Erwachsene zieht es hinaus an die frische Luft. Groß und Klein lieben den Frühsommer, wenn die Natur zu neuem Leben erwacht. Und so gibt es viele Lieder, die die warme Jahreszeit in all ihrer Pracht beschreiben. Der Kinderchor am Rhein gestaltet gemeinsam mit Mitgliedern der Duisburger Philharmoniker ein sommerliches Konzert. Im Foyer des Theaters Duisburg ist das Publikum hautnah dabei und stimmt selbst mit ein, wenn die 45 jungen Sängerinnen und Sänger die vielleicht schönste Jahreszeit musikalisch feiern.
TERMINE So 10.05., 11.00 & 15.00 Uhr – Theater Duisburg
---
EINTRITTSPREISE 9,00 / erm. 5,00 €