Opera Studio
New talent for
Düsseldorf and Duisburg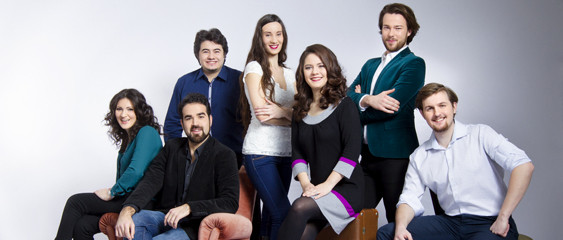 Furtherance of highly talented young singers worldwide and a help up on the way to an international career – such are the aims of the Opera Studio of Deutsche Oper am Rhein.
As a follow-up to the work of the "Young Ensemble" hitherto, Christoph Meyer formed the Opera Studio as a new body in 2009 to intensify the training of up-and-coming artists, so that they can follow up their academic instruction with more extensive opportunities to become acquainted with the artistic practice of an opera-house. As a rule over a period of two years seven male and seven female junior singers are engaged for the Opera Studio and, besides various possibilities to continue receiving teaching, are offered an extensive all-round picture of the daily work of a professional opera singer.
Their further training and the preparation for their future profession consist of several hours of weekly instruction, personal coaching, ensemble rehearsal, rôle study, language lessons, movement instruction and physical fitness, and the aspiring young singers are also prepared for future auditions. At the same time they are given the chance to study short or medium-sized rôles from the repertoire with a view to appearing in them at regular performances of the company.
***
"The chance for a young singer simply to work side by side on a high level with good international singers makes one better and better. I myself still am a long way short of what I expect and hope for myself, and so obviously it is good for me to be in such surroundings". (David Jerusalem, Opera Studio member 2011–2012 and since 2012 in the ensemble of Deutsche Oper am Rhein)
***
CONTACT
Organisation
Dr. Eva Hölter
E-Mail
opernstudio@operamrhein.de