Master Class
Master classes with internationally renowned artists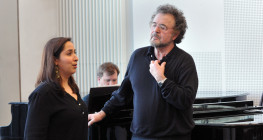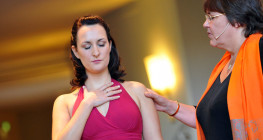 As every year, individual further training of members of the Opera Studio lies in the hands of internationally renowned artists, who pass on their experience by means of Master Classes and polish young talents in their interpretation of songs and arias and in their technical prowess.

Every season Master Classes are offered lasting several days. Deutsche Oper am Rhein invites artists of international repute – among them world-famous singers and also leading coaches of prominent opera houses - to work for a week or two with young talent, to impart new impulses in vocal technique and in interpretation, and to present the results in the form of a public concert.

At the end of each master course are the well-established "Master Class Concerts". Here the singers of the Opera Studio present at various venues in Duisburg and Düsseldorf a programme which has been devised for them individually in co-operation with the artist holding the class. The Opera Studio has until now, apart from in the foyers of Opernhaus Düsseldorf and Theater Duisburg, been guests in venues including the old turbine shed of the Düsseldorf power station and, several times, in the Düsseldorf Kunsthalle.



Holders of Master Classes 2009–2014

— Sir Thomas Allen, baritone
— Ks. Helen Donath, soprano
— Ks. Franz Grundheber, baritone
— Jane Henschel, soprano
— Gundula Hintz & Dr. Friederike Janofske, voice pedagogue and mental trainer
— Dame Ann Murray, mezzo-soprano
— Ks. Deborah Polaski, soprano
— Craig Rutenberg, head coach of the Metropolitan Opera in New York
— David Syrus, head coach of the Royal Opera House Covent Garden
— Ks. Linda Watson, soprano
— Yaron Windmüller, baritone


Holders of Master Classes in 2014/15

— Ks. Linda Watson, Sopran
— Alberto Rinaldi, Bariton
— David Syrus, Studienleiter Royal Opera House Covent Garden


DATES: