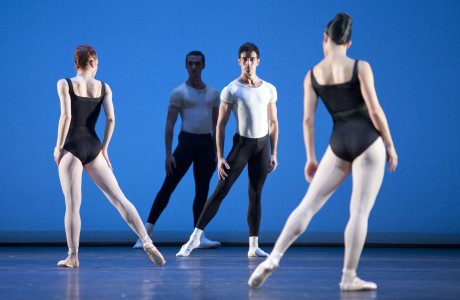 Duration b.18: about 2 ½ hours, two intervals
Episodes
George Balanchine
Igor Stravinsky made George Balanchine acquainted with the music of Anton Webern and thereafter he could not escape its fascination: "His music fills the air like molecules; it is as if it had been composed for the atmosphere", he pronounced with decision and: "When I heard it for the first time, it seemed to me to have in common with Mozart and Stravinsky that it is music to which one can dance, because it leaves room for the mind to envisage the dance. If one hears music by Beethoven or Brahms, every listener has his own ideas and imagines pictures of what the music says to him. But how can I as a choreographer force a dancing body into an optical image which already exists in the imagination of someone else?
Balanchine's fascination for Webern took on a positively encyclopaedic character, in that he considered writing choreography for the Viennese master's whole instrumental output. Together with his impresario Lincoln Kirstein, he invited Martha Graham to discuss it, and created a two-part evening with her. The great pioneer of Modern Dance devised under the title of "Episode I" a piece on the death of Mary Queen of Scots for her company and for Sallie Wilson from Balanchine's New York City Ballet. Balanchine himself took over the other part of the work with his company and roped in Paul Taylor from Martha Graham's troupe for a solo variation. But this pairing of two so diverse components was short-lived. On 14 May 1959, only a year after the first night, Balanchine started to show his part of the project, renamed "Episodes", on its own, without Martha Graham's contribution and without Paul Taylor's variation, at the New York City Center of Music and Drama.
A piece emerged which fills the available space with micro-steps. Every movement seems to be dismantled into its smallest components, without however losing integration into its great whole. Not only Webern's sounds, but above all silence comprises Balanchine's vital ingredient, music and movement standing still. "Music and choreography in 'Episodes' are so closely allied", wrote Horst Koegler, "that one does not at first sight even begin to realize how often Balanchine here quite deliberately choreographed into a musical tacet.
Rehearsed by Patricia Neary, Ballett am Rhein continues its involvement with George Balanchine in "Episodes", and presents in it not only one of the most significant ballets of the 20th century, but also one of the neo-classicist's works which pointed most forward into the future of dance. Martin Schlaepfer managed for the re-production with Ballett am Rhein, to restore also the Taylor-Variation. Peter Frame, for whom Taylor 1986 reconstructed the solo, will be responsible for its restaging.
***
EPISODES
George Balanchine © The George Balanchine Trust
MUSIC Symphony op.21 for chamber ensemble, five pieces op.10, concerto op.24 for nine instruments and variations op. 30 by Anton von Webern and Fuga (2nd Ricercata) a 6 voci from the Musical Offering of Johann Sebastian Bach, BWV 1079/5, arranged for orchestra by Anton von Webern
Choreographie
George Balanchine
Musikalische Leitung
Christoph Altstaedt
/
Wen-Pin Chien
Licht
Franz-Xaver Schaffer
Einstudierung
Patricia Neary
,
Peter Frame
Sinfonie op. 21
Louisa Rachedi
,
Alexandre Simões
Fünf Stücke op. 10
Nicole Morel
,
Paul Calderone
Konzert op. 24
So-Yeon Kim
,
Andriy Boyetskyy
/
Chidozie Nzerem
Variationen op. 30
Jackson Carroll
/
Rashaen Arts
Fuga a 6 voci aus "Das Musikalische Opfer" BWV 1079/5
Claudine Schoch
,
Marcos Menha
Tänzerinnen
Sachika Abe
,
Ann-Kathrin Adam
,
Doris Becker
,
Wun Sze Chan
,
Sabrina Delafield
,
Mariana Dias
,
Feline van Dijken
,
Carolina Francisco Sorg
,
Nathalie Guth
,
Alexandra Inculet
,
Anne Marchand
,
Aryanne Raymundo
,
Elisabeta Stanculescu
,
Anna Tsybina
,
Irene Vaqueiro
Tänzer
Filipe Frederico
,
Philip Handschin
,
Alban Pinet
Orchester
Duisburger Philharmoniker
Sinfonien
Martin Schläpfer
"I go through the sparse-sounding late autumn woods, and I hear my footsteps, and I hear my heart beating: I hear the noises of nature gradually surrendering and the echo of a bird's call in my memory. Deeper and deeper I penetrate to where alarm and peace are so close to each other, where fear stands still". (Wilhelm Killmayer).
Four dancer couples, the men with naked torso and ankle-long heavy pleated skirts, the women en pointe in flowery Alpine costumes with peasant pigtails. They seem to us to be members of some strange archaic tribe. Out of utter repose their bodies seem to outgrow themselves and drive themselves onward to the point of breaking. Their connexion with the ground never breaks off. One dancer joins them. Like a solitary prince he walks wonderingly through a forest of enchanted creatures. Symmetries begin to break up, motions to collapse. A point is reached behind which one can arrive "outside" …
To the two orchestra pieces "Fogli" (leaves) and "Ricordanze" (memories) by Wilhelm Killmayer, a composer born in Munich in 1927, Martin Schläpfer created one of his most singular ballets. In a situation of peculiarly tense timelessness the piece reveals to the spectator the experience of a slow-motion watching and listening, in which the slightest variation amounts to an event. The porous nature of Killmayer's scoring, in which each and every tone seems a "being" with its own colour and its own climate, creates a tonal area on which dance begins to search for music and vice versa music for dance, only to break out forthwith against each other. "The action has something magical and also something precious, because every gesture seems to carry special weight," Wolfgang Sandner wrote in the 'Frankfurter Allgemeine Zeitung' about the piece, which was awarded the theatre prize DER FAUST in 2009. "An attempt", thus Martin Schläpfer, "to find a different balance in effortless simplicity and deceleration".
***
SINFONIEN
Martin Schläpfer
MUSIC Sinfonia I ("Fogli") and Sinfonia II ("Ricordanze") by Wilhelm Killmayer
Choreographie
Martin Schläpfer
Musikalische Leitung
Christoph Altstaedt
/
Wen-Pin Chien
Bühne
Thomas Ziegler
Kostüme
Catherine Voeffray
Licht
Franz-Xaver Schaffer
Tänzerinnen
Marlúcia do Amaral
/
Nathalie Guth
,
Yuko Kato
/
Alexandra Inculet
,
Anne Marchand
,
Nicole Morel
/
Elisabeta Stanculescu
Tänzer
Richard Jones
/
Jackson Carroll
,
Antoine Jully
/
Michael Foster
,
Alexander McKinnon
/
Filipe Frederico
,
Boris Randzio
/
Alban Pinet
,
Alexandre Simões
/
Friedrich Pohl
Orchester
Duisburger Philharmoniker
Sorrowful Songs (Uraufführung)
Nils Christe
In Opernhaus Düsseldorf his "Fearful Symmetries" in the multiple ballet bill b.11 were last to be seen – a city piece at swift tempo, which like a choreographic firework display did not only electrify the dancers of Ballett am Rhein, but also left their public breathless in view of its virtuosity, its inventiveness and amazing play of constantly changing symmetrical structures. Martin Schläpfer has commissioned from Nils Christe a new work for Ballett am Rhein. His musical basis for this are the second and third movements of the Third Symphony by Henryk Mikołaj Górecki, written in 1976 – the one known as the "Symphony of Sorrowful Songs" which made it into the pop charts in the 1990s by reason of its eloquently emphatic mode of expression. Górecki arranged the individual movements as dirges, and used as source material partly a prayer found on the wall of a cell in the basement of the Zakopane headquarters of the Gestapo, and also a folksong from Upper Silesia from the time of the Polish uprisings, depicting the mourning of a mother for her dead son. But Nils Christe did not set out to create a piece describing the horrors of war so much as – in the choreographer's words – "an intensive sounding of music through a dancing which can be expressive of melancholy and sorrow just as much as of hope."
Since the acclaimed world première of his "Before Nightfall" with the ballet of the Paris Opéra in 1985, Nils Christe is deemed one of the most important choreographers of his generation. He was dancer of Nederlands Dans Theater, earned his first chances there to choreograph, and was artistic director of Scapino Ballet in Rotterdam from 1986 to 1993. After his success in Paris his own ballets soon took him far over the frontiers of his native Holland to world-wide venues including the ballet of the Vienna State Opera, the Royal Danish and Royal Swedish Ballet, the Finnischen National Ballet, the ballets of Basel and Zürich, the ballet of the Deutsche Oper in Berlin, the ballet of the Komische Oper, also in Berlin, the Bavarian State Ballet, ballettmainz, the Washington Ballet, the Grands Ballets Canadiens, the Queensland Ballet, the Singapore Dance Theatre, Het Nationale Ballet Amsterdam and Introdans. Especially important for Nils Christe is the collaboration with his wife Annegien Sneep, who has not only been his artistic assistant since 1981 and been responsible for new production of his choreographies all over the world, but also usually designs the costumes for every new work of his.
***
SORROWFUL SONGS
(World première)
Nils Christe
MUSIC 2. und 3. Satz aus der Sinfonie Nr. 3 op. 36 für Sopran und Orchester ("Sinfonie der Klagelieder") von Henryk Mikołaj Górecki
***
"Sorrowful Songs" is promoted by Fonds Neues Musiktheater 2014.

Choreographie
Nils Christe
Musikalische Leitung
Christoph Altstaedt
/
Wen-Pin Chien
Bühne
Thomas Rupert
Choreographische Assistenz und Kostüme
Annegien Sneep
Licht
Franz-Xaver Schaffer
Solistin
Annika Kaschenz
Tänzerinnen
Ann-Kathrin Adam
,
Doris Becker
,
Wun Sze Chan
,
Mariana Dias
,
Feline van Dijken
,
Alexandra Inculet
,
So-Yeon Kim
,
Nicole Morel
,
Louisa Rachedi
,
Claudine Schoch
Tänzer
Rashaen Arts
,
Paul Calderone
,
Jackson Carroll
,
Martin Chaix
,
Michael Foster
/
Filipe Frederico
,
Marquet K. Lee
/
Michael Foster
,
Sonny Locsin
/
Marquet K. Lee
,
Marcos Menha
/
Sonny Locsin
,
Bruno Narnhammer
/
Marcos Menha
,
Chidozie Nzerem
/
Bruno Narnhammer
,
Alexandre Simões
Orchester
Duisburger Philharmoniker