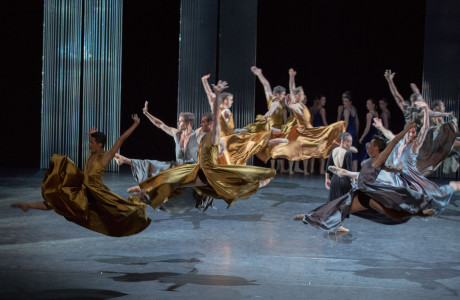 Further Dates And Events
Theater Duisburg
June 2015
Duration b.24: approx. 2 ¼ hours, two intervals
Illusion (Uraufführung)
Young Soon Hue
Illusion: the associations aroused by such a title are varied, the notion includes imaginations, dreams, phantasmagoria, fictions and hopes along with delusions, apparitions and chimerae. But there is also a place for play in the notion of illusion: these can be created playfully or put into play.
Stories of people living in other, unreal worlds, who abandon themselves to their day dreams and night dreams, their desires, delusions and self-delusions, provide the starting point for choreographer Young Soon Hue's first piece for the Ballett am Rhein. At her side, responsible for design, she has the renowned Dutch stage and costume designer Keso Dekker.
Young Soon Hue was born in Inchon in South Korea and began her career as a dancer. She worked with leading choreographers and was an ensemble member of Ballett Frankfurt, Zürcher Ballett, Ballett Basel as well as the Ballett der Deutschen Oper am Rhein. She has worked as a choreographer since 2001 and created some 30 dance pieces for numerous companies – including Tulsa Ballet (USA), Queensland Ballet (Australia), the leading Korean ballet companies, the Turkish National Ballets of Ankara and Izmir, and companies belonging to theatres in Hagen, Augsburg, Schwerin and Coburg as well as the Aalto Ballett Theater Essen and the Ballett der Deutschen Oper am Rhein. In 2010 and 2011 she was the Artistic Director of the Korea World Stars Dance Festival and the Seoul International Ballet Festival. She was voted Choreographer of the Year in Korea in 2006 and has since won further awards from the Korean Ballet Association and Ballet Critics' Association.
***
ILLUSION (World premiere)
Young Soon Hue
MUSIC Doppelkonzert für Violine, Violoncello und Orchester von Philip Glass
Choreographie
Young Soon Hue
Musikalische Leitung
Wen-Pin Chien
Bühne und Kostüme
Keso Dekker
Licht
Volker Weinhart
Solo-Violine
Siegfried Rivinius
Solo-Violoncello
Friedemann Pardall
Frau
Yuko Kato
Schutzengel
Marcos Menha
Liebe
Alexandre Simões
Drei Traum-Paare
So-Yeon Kim
,
Michael Foster
,
Ann-Kathrin Adam
,
Rashaen Arts
,
Doris Becker
,
Andriy Boyetskyy
Tänzerinnen
Sachika Abe
,
Camille Andriot
,
Wun Sze Chan
,
Mariana Dias
,
Feline van Dijken
,
Sonia Dvorak
,
Alexandra Inculet
,
Louisa Rachedi
,
Claudine Schoch
Tänzer
Christian Bloßfeld
,
Odsuren Dagva
,
Filipe Frederico
,
Philip Handschin
,
Marquet K. Lee
,
Sonny Locsin
,
Chidozie Nzerem
Orchester
Duisburger Philharmoniker
Lonesome George (Uraufführung)
Marco Goecke
The pieces with which Marco Goecke has repeatedly fascinated his audience anew for over a decade are contemporary dance universes of a very special kind. His dancers seem to be transposed into a strange feverish condition, "a constant, unfamiliar nervous flutter" according to Sylvia Staude in the Frankfurter Rundschau – and yet the freedom of the composition is only an illusion: every step, every tiny movement, however fast, is precisely laid down in an individual dance language which the dance critic Horst Koegler once called the "Système Goeckien".
Ever since his first works for the Stuttgart Noverre-Gesellschaft, Marco Goecke (born in Wuppertal in 1972) has been able to establish himself as one of the most significant choreographers. He has been resident choreographer of Stuttgart Balletts since 2005 – a position which also linked him with the Scapino Ballet Rotterdam from 2006 to 2012 and since the 2013/14 season with the Nederlands Dans Theater. He has created a notable number of world premieres, not only for these three ensembles but for many other distinguished international companies – including Hamburg Ballett, Leipziger Ballett, Norwegian National Ballet Oslo, Pacific Northwest Ballet Seattle, New York Choreographic Institute, Staatsballett Berlin, Gauthier Dance, the São Paulo Companhia de Dança and Les Ballets de Monte Carlo.
For his first collaboration with the Ballett am Rhein Marco Goecke has chosen Dmitri Shostakovich's Chamber Symphony op. 110a as the musical score – a version for string orchestra orchestrated by the composer and violist Rudolf Barshai from Shostakovich's 8th String Quartet. This piece, which was composed within two days in July 1960, is considered one of Shostakovich's most intimate scores. As if looking back at his own life, memories of the composer's other works can be heard and connect with further references from Jewish folk songs to Wagner and Tchaikovsky to musical silhouettes. The basic tempo is slow. Only once does a wild scherzo break out which then transforms into a ghostly pale waltz. The grotesque, satirical and striking qualities of Shostakovich's early works has given way to a penetrating expressivity and a lyricism of transparent melancholy.
***
LONESOME GEORGE (World premiere)
Marco Goecke
MUSIC String quartet No. 8 in C minor op. 110 by Dmitri Shostakovich orchestrated as Chamber Symphony for String Orchestra op. 110 a by Rudolf Barshai
Choreographie
Marco Goecke
Musikalische Leitung
Wen-Pin Chien
Bühne und Kostüme
Michaela Springer
Licht
Udo Haberland
Dramaturgie
Nadja Kadel
Tänzerinnen
Marlúcia do Amaral
,
Camille Andriot
,
Wun Sze Chan
,
Mariana Dias
,
Nathalie Guth
Tänzer
Christian Bloßfeld
,
Martin Chaix
,
Filipe Frederico
,
Sonny Locsin
,
Marcos Menha
,
Alexandre Simões
Orchester
Duisburger Philharmoniker
Voices Borrowed (Uraufführung)
Amanda Miller
"To move consciously in the present as a contemporary artist and to create a living story for the future", is American choreographer Amanda Miller's original concept for her world premiere "Voices Borrowed". As a musical score she has selected a composition which plays in a very particular way with the levels of time history, present and future: Arnold Schönberg's Concerto for String Quartet and Orchestra in B flat after Georg Friedrich Händel's Concerto Grosso in B flat op. 6 Nr. 7. The master of the musical avant-garde at the beginning of the twentieth century took Händel's baroque work in order to freely adapt and transpose it for the modern orchestra and a soloistic string quartet. Schönberg's own comment that it had turned out to be "a highly original piece" can be taken as a polite understatement. He used a firework display of sound colours to explode the baroque form and allowed an imaginative kaleidoscope of multifaceted instrumentation, stylistic wit and humorous poetry to emerge – a thrilling concert between old style and new music. In "Voices Borrowed" the intricate narration of these distinct voices inspire Amada Miller to create a ballet.
Born and raised in North Carolina, Amanda Miller began her training at the North Carolina School of the Arts and continued her studies in New York. Before William Forsythe invited her to join Ballett Frankfurt, where she was also Resident Choreographer, she had danced with Chicago Lyrical Opera Ballet and the Ballett der Deutschen Oper Berlin. In 1992 Amanda Miller founded the Pretty Ugly Dance Company, an interdisciplinary ensemble which performed from 1997 to 2004 at Theater Freiburg as Ballett Freiburg Pretty Ugly. From 2005 to 2009 pretty ugly tanz köln found a new home under Amanda Miller's direction at Theater Köln. She subsequently returned to the USA, teaching at several universities and working aound the world as a choreographer, performer and opera director. After her successful world premiere "Crop" for the Ballett am Rhein in the 2012/13 season, Martin Schläpfer has been able to persuade her to return to Europe to create another new piece, for which he is placing the entire company at her disposal.
***
VOICES BORROWED (World premiere)
Amanda Miller
MUSIC Largo from the Concerto Grosso in B flat op. 6 Nr. 7 by Georg Friedrich Händel and Concerto for String Quartet and Orchestra in B flat after Georg Friedrich Händel's Concerto Grosso in B flat op. 6 Nr. 7 by Arnold Schönberg
Choreographie
Amanda Miller
Musikalische Leitung
Wen-Pin Chien
Bühne
Claus Stump
Kostüme und Licht
Amanda Miller
,
Claus Stump
Musikalische Beratung der Choreographin und Dramaturgie
Mark Fasshauer
Violine 1
Siegfried Rivinius
Violine 2
Matthias Bruns
Viola
Mathias Feger
Violoncello
Friedemann Pardall
Tänzerinnen
Sachika Abe
,
Camille Andriot
,
Doris Becker
,
Wun Sze Chan
,
Feline van Dijken
,
Sonia Dvorak
,
Yuko Kato
,
Helen Clare Kinney
,
Claudine Schoch
,
Virginia Segarra Vidal
Tänzer
Jackson Carroll
,
Martin Chaix
,
Michael Foster
,
Philip Handschin
,
Richard Jones
,
Marquet K. Lee
,
Sonny Locsin
,
Alexander McKinnon
,
Alban Pinet
,
Boris Randzio
Orchester
Duisburger Philharmoniker