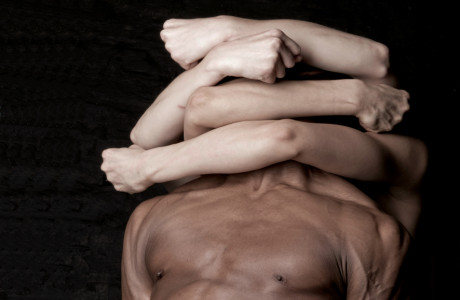 Further Dates And Events
Opernhaus Düsseldorf
March 2015
April 2015
June 2015
Duration b.23: approx. 2 ½ hours, two intervals
Symphonie g-Moll (Uraufführung)
Martin Schläpfer
"Symphonie g-Moll" nennt Martin Schläpfer seine zweite Uraufführung für das Ballett am Rhein in dieser Spielzeit und sucht damit einmal mehr den Dialog mit einem bekannten Werk des sinfonischen Repertoires: die g-Moll-Sinfonie Nr. 40 KV 550 von Wolfgang Amadeus Mozart: Wie eine schmerzlich erregte "Aria agitata" lässt Mozart seine Sinfonie anheben, mit ihren fallenden Seufzerfiguren eine rastlos-vorwärtstreibende Stimmung verbreitend, die sich im weiteren Verlauf des Satzes – so beschrieb es der Musikhistoriker Alfred Einstein – zu "Stürzen in Abgründe der Seele" verdichtet, "aus denen nur Mozart selber wieder auf den Weg der Vernunft finden konnte". Doch auch rokokohafte Eleganz und schwärmerisch-empfindsamem Ausdruck kennt diese Komposition, die zur Trias der letzten, 1788 entstandenen Sinfonien Mozarts zählt.
***
SYMPHONIE G-MOLL (World Premiere)
Martin Schläpfer
MUSIC g-Moll-Sinfonie KV 550 by Wolfgang Amadeus Mozart
Choreographie
Martin Schläpfer
Musikalische Leitung
Wen-Pin Chien
Bühne und Kostüme
Florian Etti
Licht
Thomas Diek
Tänzerinnen
Sachika Abe
,
Doris Becker
,
Sabrina Delafield
,
Feline van Dijken
,
Nathalie Guth
,
Alexandra Inculet
,
Christine Jaroszewski
,
Yuko Kato
,
So-Yeon Kim
,
Helen Clare Kinney
,
Anne Marchand
,
Aryanne Raymundo
,
Claudine Schoch
,
Virginia Segarra Vidal
,
Elisabeta Stanculescu
,
Julie Thirault
,
Irene Vaqueiro
Tänzer
Rashaen Arts
,
Andriy Boyetskyy
,
Jackson Carroll
,
Odsuren Dagva
,
Filipe Frederico
,
Philip Handschin
,
Richard Jones
,
Chidozie Nzerem
,
Alban Pinet
,
Boris Randzio
Orchester
Düsseldorfer Symphoniker
... adónde vas, Siguiriya? – Capricho Flamenco (Uraufführung)
Brigitta Luisa Merki
"Among black butterflies / A dark-haired girl walks / Next to a white serpent / of mist. / Earth of light / sky of earth ... / Where are you going Siguiriya?" – Federico García Lorca asks the girl in his poem "El Paso de la Siguiriya", whose name is that of the archaically profound and expressive Cante Jondo song which lies at the heart of flamenco: "Cante Jondo is always sung at night, it has no morning, no evening, no mountains, no plains. It has only the night, a wide, deep starry night", Lorca writes. "In Siguiriya, the consummate poem of tears, the melody weeps like the verses weep." Until now the Siguiriya has only beensung, but now it is also danced and with its explosive power, full of anger and grief, dwelling intolerant and inconsolable on the edges of human existence, it remains a considerable challenge for any dancer.
"Flamencos en route present flamenco at its best", wrote the Neue Zürcher Zeitung. This celebrated dance company consists of distinguished Spanish and international dance and music makers and marks its 30th anniversary in 2014 with a comprehensive programme in many locations across Europe. Since 1984 the choreographer and founder of the company Brigitta Luisa Merki – who was initially able to secure her former teacher the legendary dancer and choreographer Susana as artistic director – has retained the concept of combining flamenco with the most diverse artistic movements and intellectual influences. This constantly leads her to new shores, as is the case here with her first collaboration with the Ballett am Rhein. Dancers and musicians from Flamencos en route will encounter dancers from Martin Schläpfer's company in "… adónde vas, Siguiriya?" and investigate new artistic dialogues and intense poetic acoustic images.
"His images of the Siguiriya could not capture the essence of flamenco and the magical atmosphere of this complex art form any better", writes Brigitta Luisa Merki about Lorca's poem which serves as the starting point for her own new dance poem – a capricho overcoming the boundaries between two very different artistic ensembles as "the liveliness of an idea, of a mood, as a form of expression for unbounded fantasy, for the dark just as much as the light. Playing with the forms and colours of flamenco which continually assimilate what is alien and new without letting itself be assimilated."
***
… ADÓNDE VAS, SIGUIRIYA?
CAPRICHO FLAMENCO
(World premiere)
Brigitta Luisa Merki
MUSIC Musikensemble Flamencos en route
***
A co-operation between Flamencos en route and the Ballett am Rhein Düsseldorf Duisburg
Choreographie und Bühne
Brigitta Luisa Merki
Kostüme
Carmen Perez Mateos
Licht
Thomas Diek
Ton
Markus Luginbühl
Tanzcompagnie Flamencos en route
Carmen Angulo
,
Carmen Iglesias
,
Raquel Lamadrid
,
Eloy Aguilar
,
Alvise Carbone
,
Ricardo Moro
Musikensemble Flamencos en route
Emilia Amper
,
Rocio Soto
,
Fredrik Gille
,
Juan Gomez
,
Pascual de Lorca
Tänzerinnen
Camille Andriot
,
Mariana Dias
,
Marlúcia do Amaral
Tänzer
Alexandre Simões
,
Marcos Menha
,
Paul Calderone
Rättika (Deutsche Erstaufführung)
Mats Ek
"With Mats Ek not only the narrative ballets but also the more abstract pieces are always little stories, which present life before our eyes as it really is – choreographic images with their Nordic starkness and archaic power located between dream and reality which continue to occupy us long after the evening in the theatre is over", wrote Swedish dance and theatre critic Margareta Sörenson about Mats Ek who, along with John Neumeier and Jiří Kylián, is regarded as one of the leading choreographers of his generation. This is particularly true of his choreography "Rättika", with which he once again entrusts the Ballett am Rhein with his work following "Aluminium" in 2010.
In "ättika" – in English "radish" – originally created for the Royal Swedish Ballet, Mats Ek analyses with his own fatalistic humour and individual extravagance what belongs on stage in ballet and what does not: not only giant surreal radishes hover in the sky over the stage. He also rejects the hierarchy of classical ballet with a prima ballerina in the foreground and a decorative corps de ballet. The dancers move in ensembles in apparently everyday ways, they seem fragile, although their movements could hardly be more connected to the earth. Individuals escape from the group – a man in a suit of newspaper, a woman in a cow print dress – and pick up on the recurring theme which runs through all of Mats Ek's ballets: his multi-facetted, masterfully compact narration of relationships between people who attempt to control life as much as they can.
Anne-Sophie Mutter's recording of Johannes Brahms' Violin Concerto in D major inspired Mats Ek to set the music in 2008. In Düsseldorf this great romantic concerto will be performed by the young violinist Marc Bouchkov. Born in 1991 in Montpellier and a student of Boris Garlitsky in Paris and Hamburg, he has recently caused a stir as a prize-winner in prestigious competitions such as the Queen Elisabeth Competition in Brussels and the Montreal International Musical Competition.
***
RÄTTIKA
(German premiere)
Mats Ek
MUSIC Concerto for Violin and Orchestra in D major op. 77 by Johannes Brahms
Choreographie
Mats Ek
Musikalische Leitung
Wen-Pin Chien
Bühne und Kostüme
Mylla Ek
Licht
Erik Berglund
Choreographische Einstudierung
Ana Laguna
,
Eva Säfström
Solo-Violine
Marc Bouchkov
Tänzerinnen
Ann-Kathrin Adam
,
Camille Andriot
,
Doris Becker
,
Wun Sze Chan
,
Mariana Dias
,
Sonia Dvorak
,
Yuko Kato
,
Louisa Rachedi
Tänzer
Paul Calderone
,
Martin Chaix
,
Michael Foster
,
Marquet K. Lee
,
Sonny Locsin
,
Marcos Menha
,
Bruno Narnhammer
,
Alban Pinet
,
Alexandre Simões
Orchester
Düsseldorfer Symphoniker