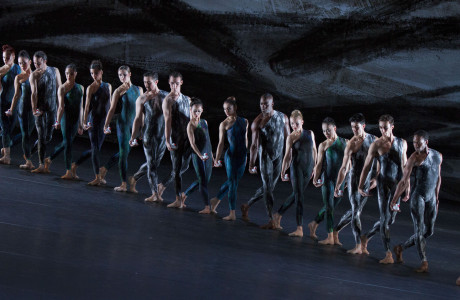 Duration b.21: approx. 2 ½ hours, two intervals
Serenade
George Balanchine
"The ballet 'Serenade' is one of the few great neoclassical ensemble works in history. It represents a substantial segment of our art form: discovering the beauty of dance in an ensemble", Martin Schläpfer commented on George Balanchine's "Serenade". Schläpfer presented this piece in his first season as ballet director at the Deutsche Oper am Rhein in 2009/10, igniting the audience's enthusiasm for one of his own choreographic role models. Now, as a result of its great success, 'Serenade' returns to the Rhine and, what's more, will be danced by a company which has made considerable technical and stylistic advances in the intervening years.
They seem like enchanted elves dancing at night in the moonlight: the female dancers in their long tutus, romantic creatures on the one hand, but at the same time extremely sensual and feminine. In "Serenade" Balanchine demonstrates the beauty of pure dance, using his ceaseless invention to bring ensemble and soloists together repeatedly in new architectonic compositions – until a little story suddenly begins to evolve.
The ballet to Peter I. Tchaikovsky's romantic serenade for strings was originally conceived for students at the School of American Ballet – what emerged is one of the masterpieces of the 20th century, which would be followed by such celebrated choreographic works as "The Four Temperaments", "Agon" and "Episodes".
Balanchine, born in St. Petersburg in 1904 and choreographer of the legendary Ballets Russes, had accepted an invitation to go to New York in 1933 to become Director of the School of American Ballet, from which the New York City Ballet would later be founded. But he would not stop here: he created his own incomparable style, a neoclassical ballet for the twentieth century, where he took the French and Russian tradition literally into a new world.
***
SERENADE
George Balanchine © The George Balanchine Trust
MUSIC Serenade for Strings in C major op. 48 by Peter I. Tchaikovsky
Choreographie
George Balanchine
Musikalische Leitung
Jochem Hochstenbach
Kostüme nach
Barbara Karinska
Choreographische Einstudierung
Patricia Neary
Licht
Thomas Diek
Tänzerinnen
Doris Becker
,
Louisa Rachedi
,
Claudine Schoch
,
Sachika Abe
,
Ann-Kathrin Adam
,
Wun Sze Chan
,
Sabrina Delafield
,
Mariana Dias
,
Feline van Dijken
,
Sonia Dvorak
,
Nathalie Guth
,
Alexandra Inculet
,
So-Yeon Kim
,
Helen Clare Kinney
,
Anne Marchand
,
Aryanne Raymundo
,
Virginia Segarra Vidal
,
Elisabeta Stanculescu
,
Julie Thirault
,
Irene Vaqueiro
Tänzer
Philip Handschin
,
Marcos Menha
,
Filipe Frederico
,
Richard Jones
,
Alban Pinet
,
Friedrich Pohl
Orchester
Düsseldorfer Symphoniker
Alltag (Uraufführung)
Hans van Manen
Hans van Manen and Martin Schläpfer: their paths have been crossing for years. A revered master and important mentor whose incomparable oeuvre has long made him one of the true greats of our time has more and more become a colleague, a friend – and an artist who always makes his work available willingly and generously. For audiences, each one of his ballets is an individual example of the consummate interaction between music and movement, the creation of human characters and the expression of their emotions in a language which is crystal clear and free from all anecdotal techniques. Under Martin Schläpfer's guidance several generations of dancers – in Berne, Mainz and now at the Deutsche Oper am Rhein – have been able to grow and mature in the works of the now 81 year-old Dutchman to such an extent that Wiebke Hüster recently wrote in the newspaper Frankfurter Allgemeine that the Ballett am Rhein is "the best address in Germany to see Hans van Manen's wonderful pieces".
As ready as the choreographer is to trust other companies with his works, to this day his true home remains the two ensembles with which he alternated residency: Nederlands Dans Theater based in The Hague and Het Nationale Ballet Amsterdam. All his choreographic works since 1994 – with the exception of a single piece for Introdans – have been created for these two companies. That Hans van Manen now gives the Ballett am Rhein a world premiere, the first German company in over twenty years, is a genuine sensation which is crowned by one further detail: after Martin Schläpfer's return to the stage as a dancer in 2012 for the Pas de deux "The Old Man and Me", Hans van Manen will create a new piece for him and a small ensemble of members of the Ballett am Rhein – a world premiere which opens another new page in the history of a special friendship: Hans van Manen and Martin Schläpfer.
***
ALLTAG (World Premiere)
Hans van Manen
MUSIC Adagio aus der Klaviersonate op. 1 Nr. 4 C-Dur von Manuel Blasco de Nebra sowie von Johann Sebastian Bach, Franz Schubert und Gustav Mahler
Choreographie
Hans van Manen
Bühne und Kostüme
Keso Dekker
Licht
Bert Dalhuysen
Tänzerinnen
Marlúcia do Amaral
,
Doris Becker
Tänzer
Martin Schläpfer
,
Alexandre Simões
Johannes Brahms - Symphonie Nr. 2
Martin Schläpfer
A landscape is constructed before us with free and expansive brushstrokes. Keso Dekker has created a space which permits many different associations: a stormy Autumn day, the whipped-up surface of a lake, a hilly region at night, one of considerable charm – perhaps where Johannes Brahms composed his Symphony no. 2 in D major in 1877, in Carinthia, by the Wörthersee – perhaps.
Martin Schläpfer is almost unique among his contemporaries in that he repeatedly succeeds in grasping the essence of great symphonic works and transforming them into dance. And the universe of ballet from "Giselle" to "Swan Lake" lives on in the movement conceived for the choreographic work he premiered at Theater Duisburg in 2013, "Johannes Brahms – Symphony No. 2", which now also enters the repertoire at the Opernhaus Düsseldorf. Though the choreographer's interest lies less in the old stories than in their dance – a vocabulary created in its time to express what the narrative demanded: enchantment, the fairy realm, and virtuosity… All of this is alive in "Johannes Brahms – Symphonie Nr.2", albeit in a manner which is conscious of the ambiguity of idyll and romantic yearning with the melancholy of modern – and which shows Martin Schläpfer to be one of the most candid artists of our times.
In "Johannes Brahms – Symphonie Nr. 2" Martin Schläpfer looks "at the origins of the ballet world from a distance, and yet comes very close to them – by sparking our imagination. What more can art do?" Dorion Weickmann wrote in the Süddeutsche Zeitung about the world premiere. And Wiebke Hüster in the Frankfurter Allgemeine: "Dance has abandoned fairy tales, the elves and queens, the wilis and the swans. But its magic has not been broken. Its future has just begun to the sound of Brahms' Second."
***
Originally a new ballet by Terence Kohler was to stand at the end of the b.21 triple bill – a work which unfortunately the choreographer was for reasons of illness not able to complete in time. In the circumstances Martin Schläpfer decided to replace it with a contribution originally planned for the b.23 evening, his "Johannes Brahms – Symphony No.2", which thus, after the Duisburg premiere, will now also be shown in Düsseldorf. The work planned to open the evening b.23 instead will be announced in September 2014.
***
JOHANNES BRAHMS – SYMPHONIE NR. 2
Martin Schläpfer
MUSIC Symphony No. 2 in D major op. 73 by Johannes Brahms Choreographie Martin Schläpfer
Choreographie
Martin Schläpfer
Musikalische Leitung
Jochem Hochstenbach
Bühne und Kostüme
Keso Dekker
Licht
Franz-Xaver Schaffer
Tänzerinnen
Sachika Abe
,
Ann-Kathrin Adam
,
Marlúcia do Amaral
,
Doris Becker
,
Wun Sze Chan
,
Mariana Dias
,
Feline van Dijken
,
Alexandra Inculet
,
Christine Jaroszewski
,
Yuko Kato
,
So-Yeon Kim
,
Anne Marchand
,
Claudine Schoch
,
Virginia Segarra Vidal
,
Irene Vaqueiro
Tänzer
Rashaen Arts
,
Paul Calderone
,
Odsuren Dagva
,
Michael Foster
,
Filipe Frederico
,
Philip Handschin
,
Bruno Narnhammer
,
Chidozie Nzerem
,
Friedrich Pohl
,
Boris Randzio
,
Alexandre Simões