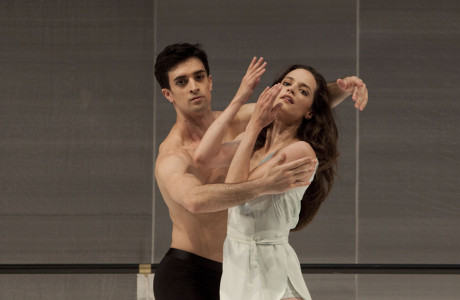 Duration: abt. 2 ½ hours, one interval
Afternoon of a Faun
Jerome Robbins
To Claude Debussy's music in 1912 Vaclav Nijinsky brought on to the stage one of the
greatest and most consequential scandals in the history of dance with the ballet "L'après-midi d'un faune", danced by himself: with choppy, one-dimensional motion sequences in a very erotically charged atmosphere, the Ballets Russes dance star rocked the aesthetical foundations of classical ballet.
Over forty years later, on May 1953, the American Jerome Robbins took Debussy's score in hand a second time and let himself be inspired to a very different choreography. The idea came to him by a rather prosaic experience: when, entering a ballet room of the New York City Ballet, he found the then dance student Eddie Villella asleep on the floor basking in the rays of the afternoon sun, there arose in his mind's eye the archaic vision of a faun being awoken by a young ballerina. A chance encounter between two dancers in the ballet studio – they could have been performers of Nijinsky's faun and nymph – was the starting-point for Robbins's intense pas-de-deux. The atmosphere is just as much erotically charged as it is of sheer naïve innocence. A short togetherness and a tender kiss remain without a sequel. The two dancers do not really find each other, they cannot look each other in the eye, but fall to repeatedly glancing at themselves in the mirror: two young people caught up in narcissistic loneliness.
Jerome Robbins belongs to the list of classic American choreographers of the 20th century. Only a few artists succeeded as he did in uniting classical ballet, Broadway, fine art and commercial entertainment. His works are to be seen in Europe somewhat seldom, so that being able to present Robbins's "Afternoon of a Faun" in Düsseldorf can be regarded as a special achievement of Ballett am Rhein.
***
AFTERNOON OF A FAUN
Jerome Robbins
MUSIC "Prélude à l'après-midi d'un faune" by Claude Debussy
Choreographie
Jerome Robbins
Musikalische Leitung
Wen-Pin Chien
Bühne und Licht
Jean Rosenthal
Kostüme
Irene Sharaff
Einstudierung
Anita Paciotti
Tänzerin
Nicole Morel
Tänzer
Alexandre Simões
Orchester
Düsseldorfer Symphoniker
Without Words
Hans van Manen
"A man of seventy-eight transforming twenty-one minutes of the most melancholy late romantic music into a cameo of desire which could not be more breathtaking" wrote
Wiebke Hüster in the Frankfurter Allgemeine about the world première of "Without words", - a choreography which Hans van Manen created for Het Nationale Ballet of Amsterdam in October 2010, and which he has entrusted for its first follow-up production by a German company to Ballett am Rhein.
A woman meets three different men. She encounters them full of tenderness, full of erotic feelings, full of unaccountable longing – and retains her cool selfcontrol throughout. The outcome of the matter remains uncertain. Over it all is a veil of boundless melancholy, "Without Words" – and yet in his so eloquent movement language devised for four strong dancer personalities Hans van Manen unfolds before us various conditions between desire and composure, secret wishes and clear awareness, emancipation and dependence.
"Without words" applies also to the music which became the basis for Hans van Manen's intense cameo. Following a suggestion by the Dutch conductor Reinbert de Leeuw he uses only the piano part of Hugo Wolf's four "Mignon songs" and thus omits the singing voice and with it Goethe's famous texts out of "Wilhelm Meisters Lehrjahre". It is "nerve music" driven into the utmost refinement, of shaky, almost expressionist eloquence, disturbance of fundaments and principles – not only those of tonality hitherto.
***
WITHOUT WORDS
Hans van Manen
MUSIC Four "Mignon songs" by Hugo Wolf, piano part only, idea by Reinbert de Leeuw
Choreographie
Hans van Manen
Bühne und Kostüme
Keso Dekker
Licht
Bert Dalhuysen
Einstudierung
Mea Venema
Klavier
Stephen Harrison
Tänzerin
Julie Thirault
Tänzer
Paul Calderone
,
Marcos Menha
,
Bogdan Nicula
Nacht umstellt
Martin Schläpfer
It is often opposites which make each other fruitful, worlds standing against each other, out of which something new comes to be. For his ballet "Nacht umstellt", now performed for the first time, Martin Schläpfer fashioned a sort of score of his own out of combination and confrontation of the two composers Franz Schubert and Salvatore Sciarrino.
Martin Schläpfer describes Salvatore Sciarrino's composing as music "standing still, where neither the individual instruments nor the sound per se are fully validated, yet it is music of an intensity not found elsewhere". Like an explorer Sciarrino listens into the tones as if examining them under a magnifying-glass, makes the tiniest interval tensions audible, as (thus Sciarrino) "in a sense everything must pass through its genesis if it is to penetrate to our perception". The composer, born in Palermo in 1947, belongs to the most consistent original thinkers in contemporary music. However estranged they may seem, his works do not contest their roots in tradition; they "tend to dessication and structures to vainglory, the content strives to become reality, at least ostensibly, while hearing is reduced to zero and we have a changed perception of sound and silence" (thus Salvatore Sciarrino).
Franz Schubert's works occupy Martin Schläpfer constantly in his ballets: "Rendering", "Du bist die Ruh" in his "Obelisco" and his "Trout Quintet" are derived from compositions of the Viennese romantic master, and the fascination is unabated. "Schubert's German Dances have topped my list for some time," declares Schläpfer, and the B minor Symphony, the 'Unfinished'. – "music which a choreographer should really keep his hands off, and yet I have been thinking of making a ballet on it for many years. There is something so akin to dance in its lavish outpouring of life energy and beauty and sadness without any loss of contact to its energy-giving source or its spiritual health. It gushes like a whirlpool or it sweeps across the land like a tornado – and then suddenly it can be still and mild like a beautiful shining star. Schubert's Unfinished is 'beset by night', Schubert himself was a human being beset by night".
***
NACHT UMSTELLT
Martin Schläpfer
MUSIC 16 German Dances D783 by Franz Schubert, "Il suono e il tacere" by Salvatore Sciarrino, Symphony No.7 in B minor D759 ("the Unfinished") by Franz Schubert, "Shadow of Sound" by Salvatore Sciarrino, "Die Nacht" D983c, part-song by Franz Schubert
***
"Nacht umstellt" is promoted by Fonds Neues Musiktheater 2013.

Choreographie
Martin Schläpfer
Musikalische Leitung
Wen-Pin Chien
Bühne
Florian Etti
Kostüme
Catherine Voeffray
Licht
Thomas Diek
Tänzerinnen
Ann-Kathrin Adam
,
Marlúcia do Amaral
,
Doris Becker
,
Wun Sze Chan
,
Mariana Dias
,
Feline van Dijken
,
Carolina Francisco Sorg
,
Yuko Kato
,
So-Yeon Kim
,
Anne Marchand
,
Nicole Morel
,
Louisa Rachedi
,
Claudine Schoch
,
Virginia Segarra Vidal
,
Anna Tsybina
,
Irene Vaqueiro
Tänzer
Christian Bloßfeld
,
Andriy Boyetskyy
,
Paul Calderone
,
Jackson Carroll
,
Martin Chaix
,
Philip Handschin
,
Antoine Jully
,
Sonny Locsin
,
Marcos Menha
,
Bruno Narnhammer
,
Bogdan Nicula
,
Chidozie Nzerem
,
Boris Randzio
,
Alexandre Simões
Orchester
Düsseldorfer Symphoniker