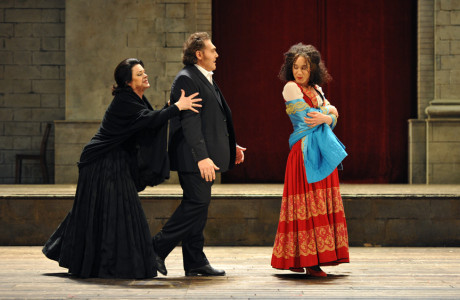 Duration: about 3 hours, one interval
Cavalleria rusticana
Pietro Mascagni
Murder out of jealousy – with the suspense of a shocker novel and with the luxuriant beauties of Italian belcanto singing at its best, there can hardly be any other opera which demonstrates this theme on stage like the two one-act operas "Cavalleria rusticana" by Pietro Mascagni (1863–1945) and "Pagliacci" by Ruggero Leoncavallo (1857–1919).
In Mascagni's "Rustic Chivalry", first performed in Roma in 1890, the drama unfolds itself in a Sicilian village. Santuzza sincerely loves Turiddu, but he is betraying her with his former flame Lola. Beside herself after a confrontation, Santuzza tells Alfio, Lola's husband, what is going on. Alfio challenges Turiddu to a knife duel, Sicilian style, and kills him.
***
Pietro Mascagni
CAVALLERIA RUSTICANA
Melodramma in one act
Libretto by Giovanni Targioni-Tozzetti and Guido Menasci after the eponymous play and novella by Giovanni Verga
In Italian with German surtitles
Musikalische Leitung
Enrico Dovico
Inszenierung
Christof Loy
Bühne und Kostüme
Herbert Murauer
Chorleitung
Gerhard Michalski
Choreographische Einstudierung
Jacqueline Davenport
Santuzza
Tanja Ariane Baumgartner
Turiddu
Mikhail Agafonov
Lucia
Renée Morloc
Alfio
Oleg Bryjak
Lola
Annika Kaschenz
Chor
Chor der Deutschen Oper am Rhein
, Extrachor
Orchester
Duisburger Philharmoniker
Pagliacci
Ruggero Leoncavallo
As in Mascagni's piece, the main motor of Leoncavallo's "Pagliacci", first performed two years later in Milan, is jealousy. Nedda, wife of Canio, actor-manager of a troupe of strolling players, is having an affair with the peasant Silvio, who begs her to give up her wandering theatrical life. Tonio, another actor, is unhappily in love with Nedda himself, makes a pass at her and vows revenge when she repulses him. He reveals Nedda's affair to Canio. But before Canio can hear more and have it out with Nedda, it is time for him to dress up as "Pagliaccio" and put on the evening's piece. The story enacted onstage is the same as his real situation, and, no longer able to distinguish between the play and reality, Canio kills his wife and her lover.
In 1893, only a year after the "Pagliacci" première, The Milan music-publisher and impresario had the idea of performing both pieces together on the same evening at the Teatro Costanzi in Rome. Ever since, the two works have much more often than not been put on as a double-bill, and personify the style of Italian verismo to this day.
***
Ruggero Leoncavallo
PAGLIACCI
Drama in two acts and a prologue
Libretto by the composer
In Italian with German surtitles
Musikalische Leitung
Enrico Dovico
Inszenierung
Christof Loy
Bühne und Kostüme
Herbert Murauer
Licht
Hanns Haas
Chorleitung
Gerhard Michalski
Leitung Kinderchor
Klaus Wallrath
Canio
Zoran Todorovich
Nedda
Nataliya Kovalova
Tonio
Boris Statsenko
Beppo
Ovidiu Purcel
Silvio
Laimonas Pautienius
Chor
Chor der Deutschen Oper am Rhein
Kinderchor
Mitglieder der Chorschule St. Margareta
Orchester
Duisburger Philharmoniker