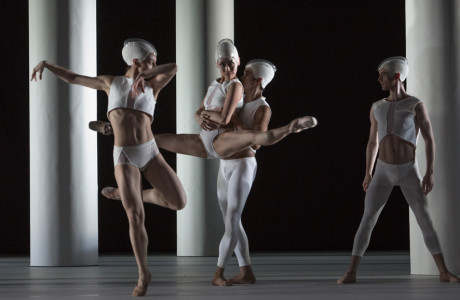 Duration b.19: about 2 ¼ hours, two intervals
Hidden Features (Uraufführung)
Antoine Jully
When Antoine Jully creates a ballet, various parameters of stage art – body, movement and music, space and costumes, light and video – are not only interactively harnessed, but are also components of a greater unity. In his first production for Ballett am Rhein, "Inside", the dancers were made into the colours on a painter's palette which became independently active in the available space. In the new choreography "Hidden Features", with which Antoine Jully will launch the b.19 multiple bill, he investigates with them the mysterious little units inside a computer. "I live as an artist in the world of today and am very interested as to what possibilities the progress of technology offers my art". To music by Erwin Schulhoff and Henryk Mikołaj Górecki, Antoine Jully wants not only to make visible in his choreography the mysterious life of files, processors, store points and files behind the files, but also to investigate with the means of the motion of the human body the relationship between the real and the virtual world. He describes his approach as being as complex as possible: "To begin a new piece, my head must be on fire".
After training at the Conservatoire national supérieur de musique et de danse in Paris. Antoine Jully's engagements included the Corps de ballet der Opéra national de Paris and the Royal Ballet in London, where he presented the first of his own choreographies. In 2005 Martin Schläpfer engaged him for his ballettmainz company, and since 2009 he has been a member of Ballett am Rhein, where, after "Inside" in b.12 and "Rebound - Topple – Splash" in b.15, "Hidden features" will be his third world première.
***
HIDDEN FEATURES (World Première)
Antoine Jully
MUSIC Five pieces for string quartet by Erwin Schulhoff and Concerto for Cembalo and strings Op.40 by Henryk Mikołaj Górecki
Choreographie und Bühne
Antoine Jully
Kostüme
Kevin Gamez
Interactive Video
Matthias Oostrik
Licht
Volker Weinhart
Tänzerinnen
Sachika Abe
,
Ann-Kathrin Adam
,
Marlúcia do Amaral
,
Camille Andriot
,
Doris Becker
,
Sabrina Delafield
,
Mariana Dias
,
Nathalie Guth
,
Alexandra Inculet
,
So-Yeon Kim
,
Anne Marchand
,
Nicole Morel
,
Louisa Rachedi
,
Claudine Schoch
,
Virginia Segarra Vidal
,
Elisabeta Stanculescu
Tänzer
Rashaen Arts
,
Christian Bloßfeld
,
Paul Calderone
,
Jackson Carroll
,
Martin Chaix
,
Michael Foster
,
Filipe Frederico
,
Philip Handschin
,
Richard Jones
,
Marquet K. Lee
,
Sonny Locsin
,
Alexander McKinnon
,
Marcos Menha
,
Bruno Narnhammer
,
Chidozie Nzerem
,
Alban Pinet
,
Friedrich Pohl
,
Boris Randzio
,
Alexandre Simões
Scenario
Merce Cunningham
Merce Cunningham made it his life task to explore the endlessly varying possibilities within the spectrum of the motions of the human body. In his aleatory working method, which he developed together with the composer John Cage and had extended since the 1990s by computer-generated physical patterns, the medium of dance became for him identical to movement itself. But he also continually overstepped the boundaries between many artistic genres outside his own, in that he persuaded many renowned pictorial artists including Robert Rauschenberg, Andy Warhol or Jasper Johns and composers such as John Cage, David Tudor or Earle Brown (to name only a few) to devise performance concepts congruent to his own choreography.
With the world première of "Scenario" at the 1997 Next Wave Festival at the Brooklyn Academy of Music in New York, one of his most unusual works successfully came into being through a collaboration with the Japanese fashion designer Rei Kawakubo, who had been bringing out her radically avant-garde collections since 1969 under the label "Comme des Garçons". At first Kawakubo turned Cunningham down: "As I understand nothing about dance, I thought I ought not to accept the job". But during her Spring and Summer collection "Body Meets Dress, Dress Meets Body" in 1997 she decided to enter in on the challenge after all, and submitted a design which had next to nothing in common with conventional clothing: with extreme bulges and protrusions on various parts of the anatomy, on shoulders, back, hips or rump, Kawakubo formed the lines of the dancers' bodies in a highly individual manner, while vice versa the movements of the bodies give the garments new, unexpected and sometimes strange and grotesque forms. To the almost endlessly flowing wave-swell of the music of Takehisa Kosugi, into the step by step changing tonal spectrum of which electronic word alienations from A to Z are sprinkled, "Scenario" abducts the watcher into a fascinatingly strange world, in which deformation and beauty seem in a highly peculiar way to be siblings.
Ballett am Rhein is the first German company to mount Cunningham's "Scenario". By an elaborate process the original costumes of Rei Kawakubo have been reconstructed for the performances in Opernhaus Düsseldorf.
***
SCENARIO
Merce Cunningham
MUSIC "Wave Code A-Z" by Takehisa Kosugi
Choreographie
Merce Cunningham
Kostüme, Raum und Licht nach
Rei Kawakubo
Einstudierung
Banu Ogan
,
Daniel Squire
Production Consultant
David Covey
Rekonstruktion Kostüme
Catherine Voeffray
Tänzerinnen
Ann-Kathrin Adam
,
Camille Andriot
,
Mariana Dias
,
Nathalie Guth
,
Alexandra Inculet
,
Nicole Morel
,
Louisa Rachedi
,
Virginia Segarra Vidal
Tänzer
Jackson Carroll
,
Martin Chaix
,
Michael Foster
,
Marquet K. Lee
,
Sonny Locsin
,
Bruno Narnhammer
,
Alban Pinet
Große Fuge
Hans van Manen
"I do not make experiments, I make ballets". Hans van Manen could hardly put more revealingly what has made his choreographies so special for more than five decades. In this sense he derives from George Balanchine, the American dance purist, and yet he points over and beyond him, since – even though they may not tell us a palpable story – his pieces tell us about contact between human beings, and thereby broach exactly all those human themes which come to mind in each of us.
Four women, four men – two small groups. The men in full-length black skirts and naked torsos, the women in flesh-coloured leotards contrasting strangely with their elaborate hairdressing. At first the men pose and the women wait. But that is of course not for long. In the typical Hans van Manen manner there begins a cunning game of enticement, approach, seduction, rejection. The two sexes see eye to eye, also with respect to their language of movement. There are no light-footed elevations for the women, no strong leaping for the men, in place of it extremely nimble step combinations and turns mingled with everyday gesturing.
As Hans van Manen's musical basis serve two of Ludwig van Beethoven's last works, the "Grosse Fuge" op.133 and the cavatina from the op.130 string quartet, scores in which the highest constructive compactness lead to extreme and subjective expressiveness. Created in 1971 for the Nederlands Dans Theater I, Hans van Manen's ballet belongs today without doubt to the masterpieces of the 20th century, and has a firm place in the repertoire of many major companies.
***
GROSSE FUGE
Hans van Manen
MUSIC Große Fuge in B-flat major op.133 and Cavatina from the string quartet in B-flat major op.130 by Ludwig van Beethoven CHOREOGRAPHY Hans van Manen SETS Jean-Paul Vroom
Choreographie
Hans van Manen
Bühne
Jean-Paul Vroom
Kostüme
Hans van Manen
Licht
Jan Hofstra
Einstudierung
Mea Venema
Tänzerinnen
Doris Becker
,
Feline van Dijken
,
Claudine Schoch
,
Julie Thirault
Tänzer
Rashaen Arts
,
Paul Calderone
,
Bogdan Nicula
,
Alexandre Simões