Ballett am Rhein
Company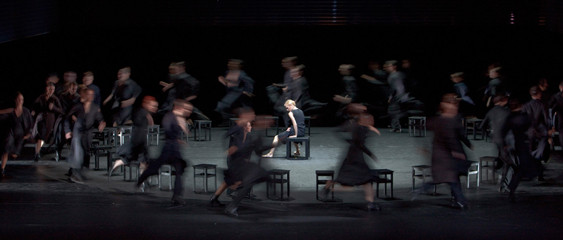 BALLETT AM RHEIN DÜSSELDORF DUISBURG
The Ballett am Rhein was reestablished by its director and chief choreographer Martin Schläpfer in 2009 and is now regarded as one of the leading companies. "tanz" magazine voted Martin Schläpfer "Choreographer of the Year" in 2010 and the Ballett am Rhein "Best Company of the Year" in both 2013 and 2014, "because here meticulous dancing is coupled with wise choice of repertoire, basking in a strongly individual creative spirit in the person of Martin Schläpfer" (Manuel Brug).
The ensemble consists exclusively of soloists, 47 dancers in all, and can be seen regularly on the Oper am Rhein's stages at Opernhaus Düsseldorf and Theater Duisburg. Guest performances have taken the company to venues which include the Théâtre de la Ville Paris (France), Het Muziektheater Amsterdam (The Nederlands), Gran Teatre del Liceu Barcelona (Spain), Festspielhaus St. Pölten (Austria), and in Germany the Cologne Opera, the theatres in Gütersloh, Bonn, Hannover and Ludwigshafen and the Ludwigsburger Schlossfestspiele. Beside its first performance in the Royal Opera House Muscat in the 2014/15 season further guest performances are scheduled at the Festival Musica Sacra Maastricht (The Nederlands), the Stanislavski Theatre Moscow (Russia) and the Nationaltheater in Munich (Germany).
To the great satisfaction of Press and public alike, Martin Schläpfer has developed for his company, which had previously been directed by Erich Walter, Paolo Bortoluzzi, Heinz Spoerli and Youri Vàmos, a new approach to repertoire which, mainly in multiple bills, presents important masterpieces of the 20th century by choreographers such as George Balanchine, Kurt Jooss, Antony Tudor, Frederick Ashton, Jerome Robbins, Merce Cunningham, Hans van Manen, Twyla Tharp, Mats Ek, Jiří Kylián, Nils Christe, Amanda Miller or Paul Lightfoot and Sol León side by side with choreographies of his own, and also works by a younger artistic generation including Regina van Berkel, Martin Chaix, Marco Goecke, Uri Ivgi and Johan Greben, Young Soon Hue and Antoine Jully which give decided prominence to the category of contemporary dance. In his own choreographic work Martin Schläpfer is in search of a "ballet art for the 21st century".
At its home stages in Düsseldorf and Duisburg two high-carat ensembles, the Düsseldorf Symphonic and the Duisburg Philharmonic Orchestra, are at the disposal of Ballett am Rhein for musical interpretation, in which they are assisted in single projects by instrumental and vocal soloists or by the chorus of the Deutsche Oper am Rhein. In the 2013/14 season for world premiere "DEEP FIELD" to a score by Adriana Hölszky collaboration took place for the first time with the renowned radio chorus of West German Radio (WDR) in Cologne. With music director Axel Kober and conductor Wen-Pin Chien Martin Schläpfer was able to obtain for his ballet evenings particularly notable musical personalities from the resources of Deutsche Oper am Rhein as his partners as well as guest conductors like Jochem Hochstenbach and Marc Piollet in 2014/15.